If this slow-growing plant is to live successfully indoors, it must be kept in an unheated room; since it will tolerate a drafty situation, it is ideal for a cool hall or passageway. The upright stems bear narrow, straplike, glossy 3-in/8-cm- long leaves, but the catkin-like flowers are not produced indoors.
The plant is also known as Japanese yew or Kusamaki; indeed, the variety most frequently seen as a houseplant is 'Maki'' whose growth is compact and whose leaves are only V2in/13mm long.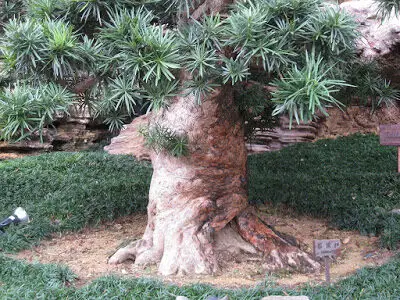 FACT FILE PODOCARPUS MACROPHYLLUS Podocarpaceae BUDDHIST  PINE
ORIGIN: Japan.

HEIGHT: 6ft/1.8m in a container.
POTTING MIX: Soil- or peat-moss-based.
REPOTTING: In spring, when roots have filled the current container.
PROPAGATION: In late spring or summer, take stem cuttings or sow seeds (the latter is the more difficult of the two methods).
KEEPING PLANTS: The plant's slow-growing habit means that it requires little attention, but it can be kept compact by regular pruning.
PLANT CARE PODOCARPUS MACROPHYLLUS Podocarpaceae BUDDHIST  PINE
Bright light to partial shade.
Cool to normal indoor conditions, with a winter minimum of 40°F/4°C.
Keep the soil moist at all times; water sparingly in winter.
Mist the plant regularly during hot weather.
Feed once a month from spring to fall with a standard liquid fertilizer.