Aloe barbadensis (syn.a. vera) Liliaceae Is one of the most popular plant and also use for various medicine and also in beauty product. Most of the people know this plants benefits as well so here in this pots lets see Aloe Barbadensis Aloe Vera indoor house plant care its propagation and its benefits and how to make your home better.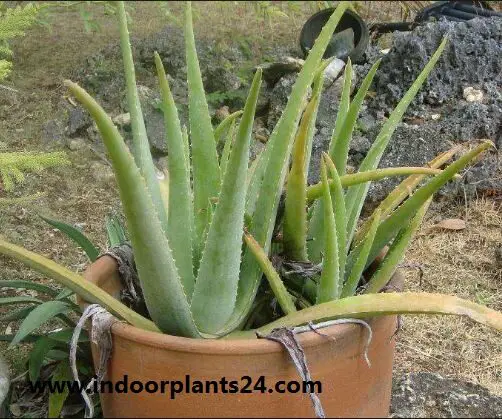 indoor house plant aloe vera potted images and photos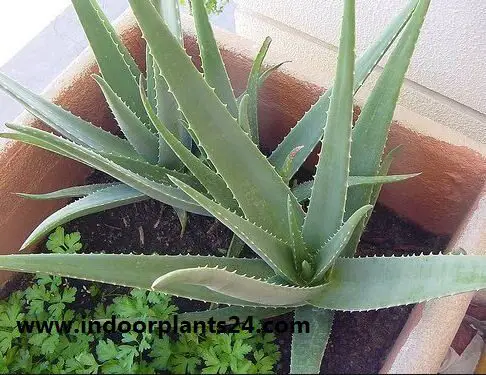 MEDICINE ALOE HOUSE INDOOR PLANTAloes are slow-growing succulents, and they display diverse size and habit. Many have leaves that are fiercely armed with hooked teeth and spines. Aloe barbadensis, today more frequently known as A. vera, is a rambling and rather messy-looking plant that has appreciably larger rosettes of growth thana4. variegata (p. 38).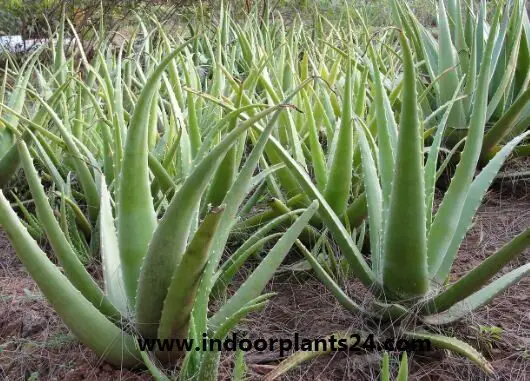 It is a trouble-free houseplant and fives up to its common name in that the sap from i broken leaf has amazing curative and restorative qualities when rubbed on sores and bruises, and even when used on the hair.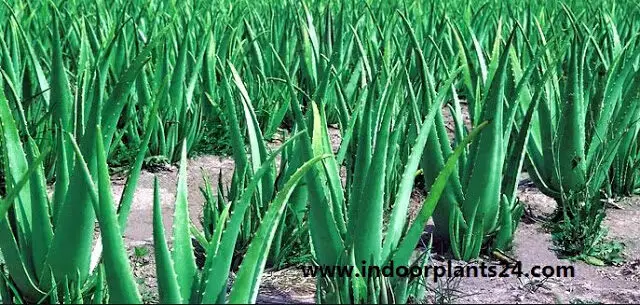 As its other common name, burn plant, indicates, it can also be used to alleviate the pain from burns. It has long been cultivated and has now become naturalized in many countries around the world and is used both in medicines and cosmetics.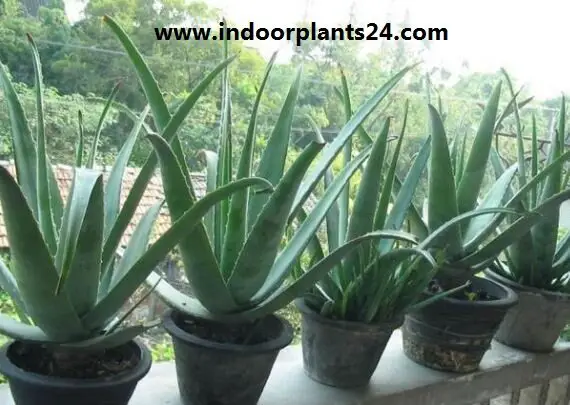 The plant forms a stemless clump of dagger-shaped gray-green leaves, faintly spotted with white and edged with soft teeth in shades of pink and red. The leaves are l-2ft/30-60cm long and 2-3in/5-8cm wide. A stalk up to 3ft/90cm long carries tubular l-in/2.5-cm-long yellow flowers in spring.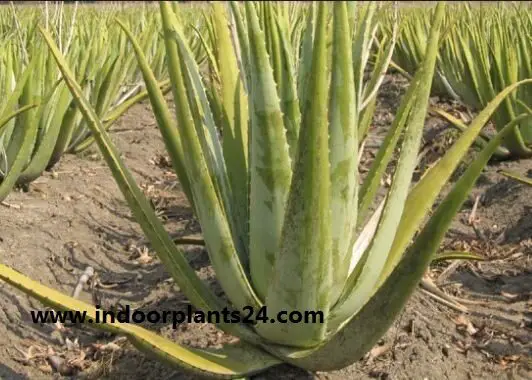 If the leaves turn brown and dry, the plant has not received enough water. Soak thoroughly for an hour and then drain.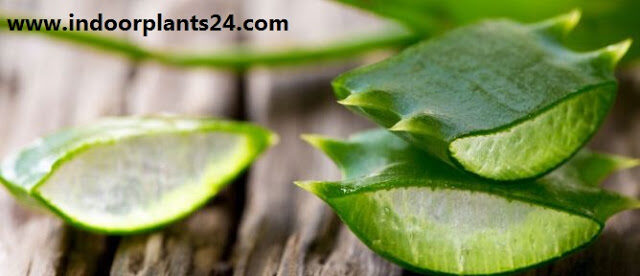 Mealybugs and root mealybugs both infest this plant. Check the leaves regularly for signs of the pest, and if the plant looks sickly scrape away the top 1 iin/13mm of potting mix and make sure there are no insects on the roots.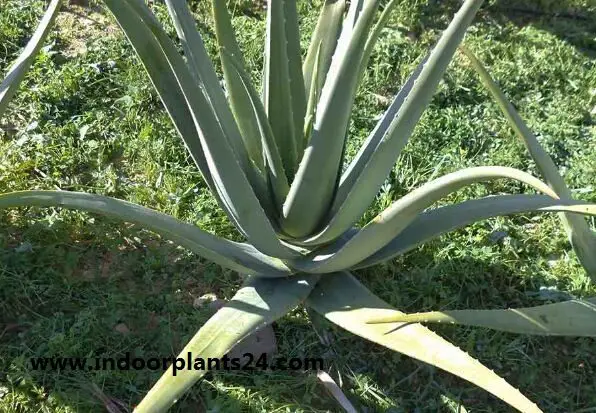 FACT FILE
ORIGIN Northeast Africa; Arabian Peninsula.
HEIGHT To 2ft/60cm.POTTING MIX Soil-based with added coarse sand.
REPOTTING Repot young plants into a pot one size larger in spring each year. When maximum convenient pot size has been reached, top- dress shoots, or offsets, when the leaves are just beginning to form rosettes.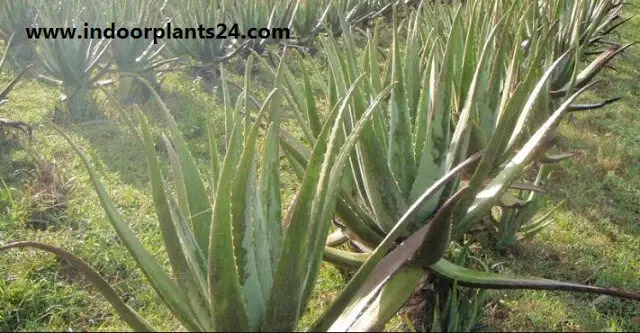 Sticky sap exudes from the shoot, so leave it for 2 days to dry before planting it in a just-damp mixture of soil and sand at normal room temperature.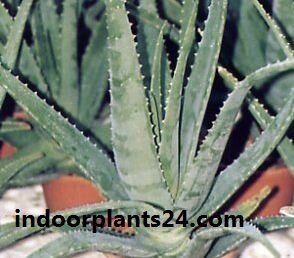 PROPAGATION By removal of suckers, cuttings of young growth, and seeds, if available.KEEPING PLANTS This aloe is reasonably hardy and trouble-free and should last for several years.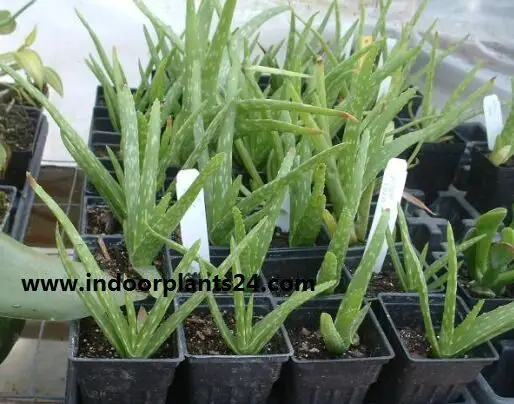 Aloe Barbadensis Aloe Vera Indoor Plant Care
A bright location, with some direct sunlight in winter. 
Water by immersing the pot for 10 minutes; do not let water collect in the rosettes of leaves. Allow the soil to almost dry out before rewatering.
In winter, water every 3-4 weeks.
Feed monthly in spring and summer with high-potash fertilizer.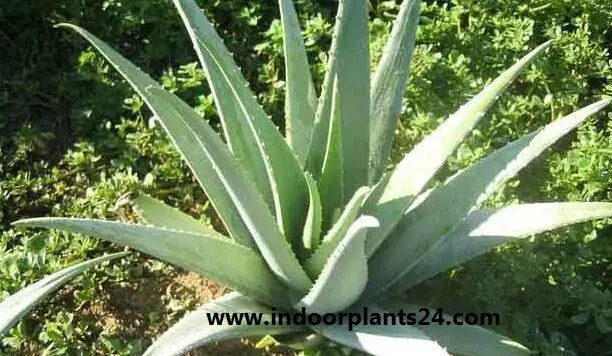 ALSO RECOMMENDED TIPS FOR ALOE VERA PLANT
Overwatering, particularly in winter, will induce black marks on the leaves and cause the plant to rot.
Check for scale insects, which attack this plant.
produces a single spike of pale rose pink and white flowers from the center of each rosette.
Aloejucunda is a pretty little plant, forming 3-in/8-cm-wide rosettes of spiny, rich green leaves with cream blotches. 
humilis has incurving, upright, 4-6-in/10-15-cm-long, spiny blue-green leaves.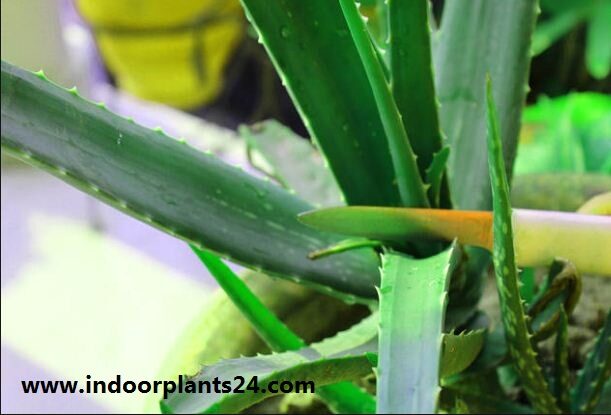 Here in this article we explained indoor house plant aloe vera how to propagation how to care in house and its benefits if you have any querry you can comment and ask us also.